Community Christmas Tree Event!
Thursday, December 12, 2013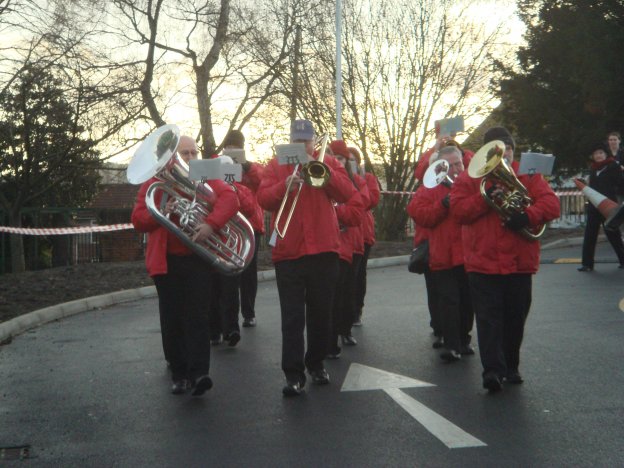 Sunday 8th Dec was a beautiful evening when the whole community of Wisewood came together to celebrate with festive cheer, organised by the Friends of Wisewood and District. Loxley Silver Band kicked off the event with some local carol tunes and Away in a Manger, then the lights were switched on on the Christmas Tree (kindly donated by Freeman College (High Riggs) by the Deputy Lord Mayor, Peter Rippon. The crowd and band then processed with lanterns round the corner from the old caretaker's house to the Sports Centre car park, where everyone joined in singing carols, boosted by the lovely voices of a scratch choir from our church! The jingle of bells was then heard, introducing the arrival of special visitor, Father Christmas! There was a small gift for every child. The RIVA Project also opened its doors and hosted the warmth of friendly volunteers, hot drinks, Christmas gift ideas, snacks and raffle. The Wadsley Jack provided BBQ refreshments for the event, and hosted the 'after party' across the road, with more carols from the church singers and mulled wine and mince pies. Thanks must go to everyone mentioned above, also Pennine Housing for providing reindeer food, HAGUES construction for installing the tree lights, and everyone who donated items for the raffle etc.
The event was a fantastic success, we hope all who attended also had a fabulous time! For more pictures, please visit our Facebook page, you can click here to go straight to the photo album. If you have photos from the event that you wish to share, you can email them to beccabyde@gmail.com and they will be uploaded. Thanks!
The Community Carols and Tree Lighting Event 2014 will take place on Sunday 7th December, from 3:30pm!!